World Tourism Day is celebrated every year on September 27 to focus on promoting tourism in various parts of the world. When it comes to India's heritage and culture, one can't help but conjure images of vibrancy, diversity, and rich history. However, what if we told you that you could unravel the secrets of India's heritage while journeying on rails? For many millennials, train travel may invoke a sense of nostalgia. In an era where road trips and flights have taken centre stage in travel preferences, train journeys have often faded into the background. However, in India, a train voyage is an adventure in itself.
Engaging in conversations with fellow passengers, gazing at the picturesque landscapes unfolding outside your window, swaying to the rhythmic motion of the train, and making occasional station stops for some refreshing stretching – all these experiences combine to make train travel a holistic odyssey. These trains offer not only a journey through nostalgia but also a captivating ride through India's culturally diverse landscape. Moreover, India's extensive railway network boasts several UNESCO-recognized heritage trains that promise to transport you to the heart of the country's cultural treasures. (Also read: World Tourism Day 2023: Date, history, significance )
Top heritage trains of India for a mesmerising journey
Dinesh Kumar Kotha, Co-founder and CEO, ConfirmTkt shared with HT Lifestyle some of the amazing Indian heritage trains that are sure to offer you an incredible journey.
1. Nilgiri Mountain Railway
Nestled amidst India's treasure trove of heritage trains, the Nilgiri Mountain Railway emerges as a true marvel of both engineering and natural beauty. This UNESCO-recognized gem winds its way through the picturesque Nilgiri Hills in Tamil Nadu, promising passengers an enchanting journey like no other. Cherished by travellers and even gracing the silver screen in Bollywood films, this delightful train adventure unfolds against a backdrop of lush tea plantations, serene forests, and charming hill stations.
As you ascend to over 6,000 feet, the Nilgiri Mountain Railway not only treats you to breathtaking landscapes but also offers a captivating glimpse into India's colonial history and the timeless allure of rail travel. One of its cinematic claims to fame includes its appearance in the Shah Rukh Khan-starrer "Dil Se" where the chart-topping song "Chaiyya Chaiyya" was filmed on the slow-moving train, adding to its legendary charm.
2. Darjeeling Himalayan Railway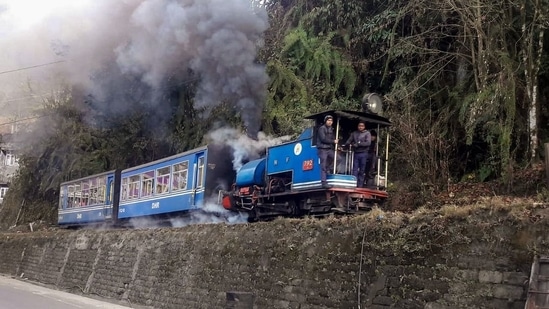 The Darjeeling Himalayan Railway, affectionately known as the "Toy Train" is a UNESCO World Heritage Site nestled in Darjeeling, West Bengal. It offers a nostalgic ride through the stunning landscapes of the Eastern Himalayas, and as you traverse steep slopes on vintage locomotives, you will soak in breathtaking views while immersing yourself in the region's rich history and culture. This iconic railway has also made its mark on the silver screen, most notably in the Bollywood film "Parineeta" where Saif Ali Khan serenades aboard the train while ascending the hills.
The route, stretching from New Jalpaiguri to Darjeeling station, is a beloved choice for tourists seeking historical charm and natural beauty. Recognized as a UNESCO World Heritage Site in 1999, this train winds through picturesque mountains, featuring five captivating loops on its ascent to the hills.
3. Palace on Wheels
The Palace on Wheels is like a regal time machine, sweeping you into a captivating week-long journey through the enchanting landscapes of Rajasthan, India. This experience seamlessly blends luxury, culture, and history, making stops at iconic destinations like Jaipur, Jaisalmer, Jodhpur, and Udaipur. Picture yourself stepping into exquisitely designed cabins, savouring gourmet feasts, and unwinding in opulent surroundings. However, what truly distinguishes this adventure is its deep cultural immersion—you will explore magnificent forts and palaces, savour traditional performances, and revel in top-tier hospitality. It's a once-in-a-lifetime excursion that unveils Rajasthan's rich heritage, promising indelible memories along the way.
4. Kalka-Shimla Railway
Envision yourself embarking on an enchanting journey through the lush Himalayan foothills, all thanks to the Kalka-Shimla Railway—a UNESCO World Heritage Site that stands as a captivating time capsule to India's colonial-era engineering marvels. This narrow-gauge heritage train gracefully winds its way through 103 tunnels, traverses over 800 bridges, and conquers steep gradients, all while treating passengers to breathtaking vistas of verdant valleys, dense forests, and picturesque villages along the way.
As you step into its vintage carriages, adorned with polished woodwork and spacious windows, you will be transported back in time to an era of elegance and charm. This remarkable railway, conceived by the visionary HS Harington in 1898 to connect Shimla, the former summer capital of India, to the national rail network, now falls under the careful stewardship of the Northern Railway. With its well-deserved Heritage Site status earned in 2008, it beckons not only railway enthusiasts but also nature lovers to embark on a truly scenic and historic voyage through the stunning landscapes of Himachal Pradesh.
Exciting news! Mint is now on WhatsApp Channels
Subscribe today by clicking the link and stay updated with the latest financial insights!
Click here!