Text messages are among the most utilitarian communication formats. Senders get a small window to type a brief note or load images–and it's designed to be viewed and answered promptly.
Apple takes a lot of that monotony away with iMessages, its proprietary messaging service for talking to other people with Apple devices. There are a ton of cool features we all use every day—animoji, tapbacks, links, typing prompts—but I recently discovered a new one that had completely passed me by. Hidden behind the small arrown ext to your message is is feature called "Send with effect," and it's one of the coolest things I've ever seen.
Foundry
While we've seen the automatic balloons that appear when you type "Happy birthday!" to someone, you can accompany any iMessage with balloons, lasers, confetti, and other amusing visual elements. Special effects iMessages, which debuted way back in iOS 10 and are available as one of four chat bubble effects or animations that momentarily take over the whole screen. There are 12 options in all.
For example, to rig up the balloons, start typing a text and then press and hold on the blue send arrow. That will open the "Send with effect" screen where you'll see the available effects. For balloons, choose Screen at the top of the screen and swipe left until you see balloons on the screen. Tap the send arrow and it'll be on its way.
The other available full-screen effects are echo (which fills the screen with floating messages), spotlight, confetti, hearts, lasers, fireworks, and celebration, which fills the screen with golden sparks. You can test the effect by swiping through the available options and watching the animation loop. Send with Echo is especially sweet if you use just an emoji or two as a text message, as you can see below.
Foundry
Special effects animations are also available for message bubbles, though the effects are quicker and more subtle. When you press and hold on the send arrow you see a vertical row of dots representing the bubble options of Slam, Loud, Gentle, and Invisible Ink. Slam comes across like a text-based fastball. Loud starts with a small bubble that gradually gets larger before settling down to normal size. The text inside the Gentle bubble starts out tiny and gradually grows to normal size. Invisible ink looks like a series of tiny scrambled dots that gradually assemble into your desired text when tapped.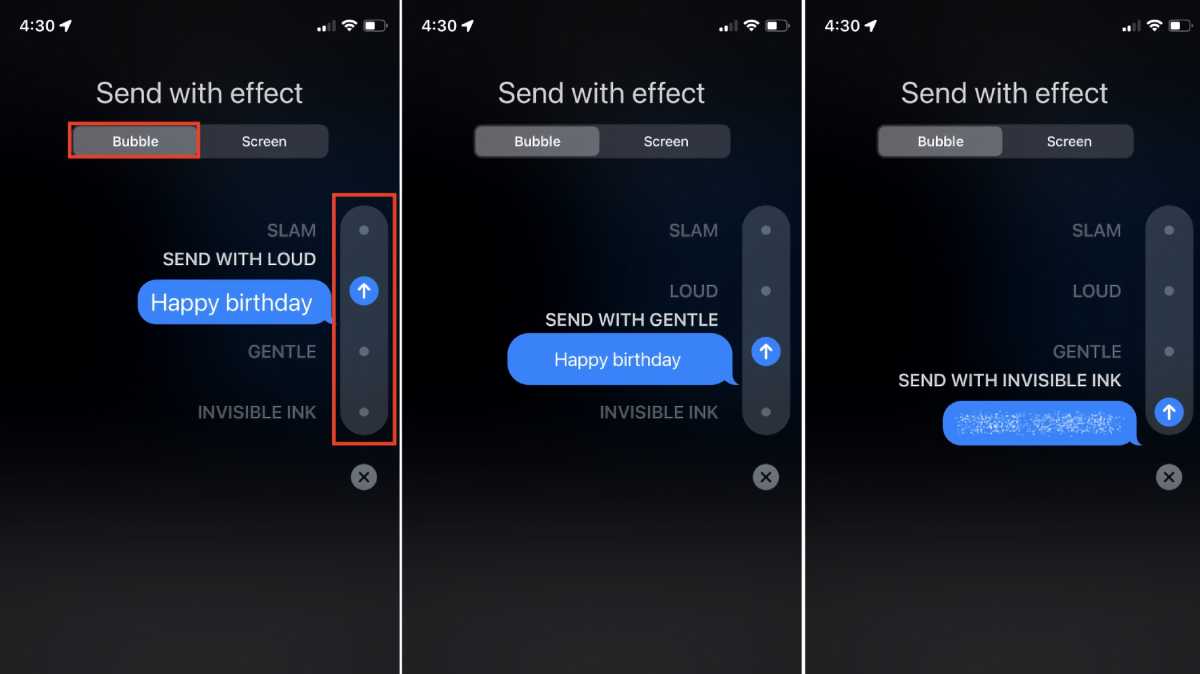 Foundry
To do this on the Mac, type your message in the Messages app, and then click and hold the App Store icon next to the text entry field. A pop-up will appear and you can select Message Effects. (Hat tip to Macworld reader Becky!)
Just remember, this is an iMessage thing. While Apple still lets you select an effect when sending a regular text message, the user on the other end won't see the effect, it'll just say [Sent with Balloom effect].
Today I Learned is a Macworld column that spotlights lesser-known but useful tips and tricks for Apple users. If you have any ideas for future columns, send an email to michael_simon@idg.com.