Arpit Kulshrestha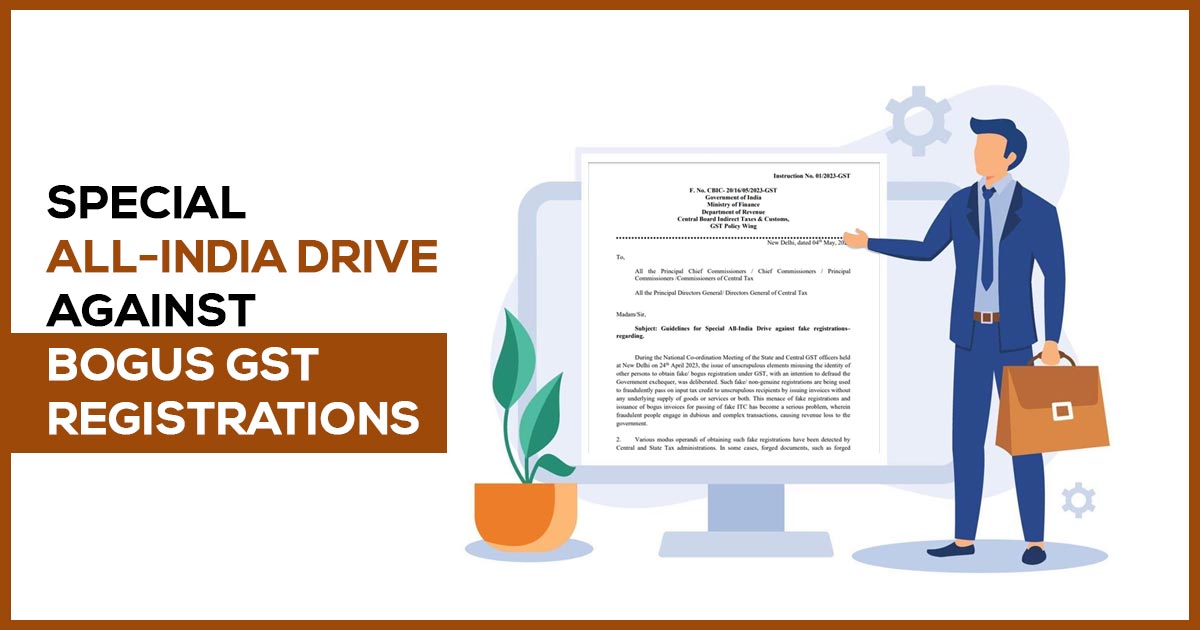 The guidelines for the special all-India drive against the bogus GST registrations would have been issued by the Central Board of Indirect Taxes and Customs (CBIC). The department has released all details via Instruction No. 01/2023-GST.
The central and state tax administrations might incorporate a special all-India drive at the time of duration 16 May to 15th July 2023 in order to fetch the dubious or bogus GSTINs, perform the requisite verification, and opt for the additional remedial action in order to find out these bogus billers from the GST eco-system and safeguard government GST revenue.
GSTN shall find out the bogus GSTINs for the state and central tax authorities as per the detailed data analytics and risk. GSTN shall furnish the information of the detected dubious GST Identification Number (GSTINs), jurisdiction-wise, with the concerned state or central tax administration (through DGARM in the case of central tax authorities) for executing the verification drives and operating the required action.
"Successful implementation of the Special Drive would require close coordination amongst the state tax administrations and between the state and central tax administrations. For this purpose, a nodal officer shall be appointed immediately by each of the zonal CGST zones and states to ensure seamless flow of data and coordination with GSTN, DGARM, and other tax administrations," the CBIC stated.
Read Also: Complete Information Related to Bogus Invoicing Under GST
The reports obtained from distinct formations shall get compiled by the GST Council secretariat and then make available to the National Coordination Committee. The unique procedure fetched at the time of the special drive shall comply via the GST Council Secretariat and shown to the National Coordination Committee, which shall nextly be shared with the administrations of the central and state tax all over the country.
Disclaimer:- "All the information given is from credible and authentic resources and has been published after moderation. Any change in detail or information other than fact must be considered a human error. The blog we write is to provide updated information. You can raise any query on matters related to blog content. Also, note that we don't provide any type of consultancy so we are sorry for being unable to reply to consultancy queries. Also, we do mention that our replies are solely on a practical basis and we advise you to cross verify with professional authorities for a fact check."