Arpit Kulshrestha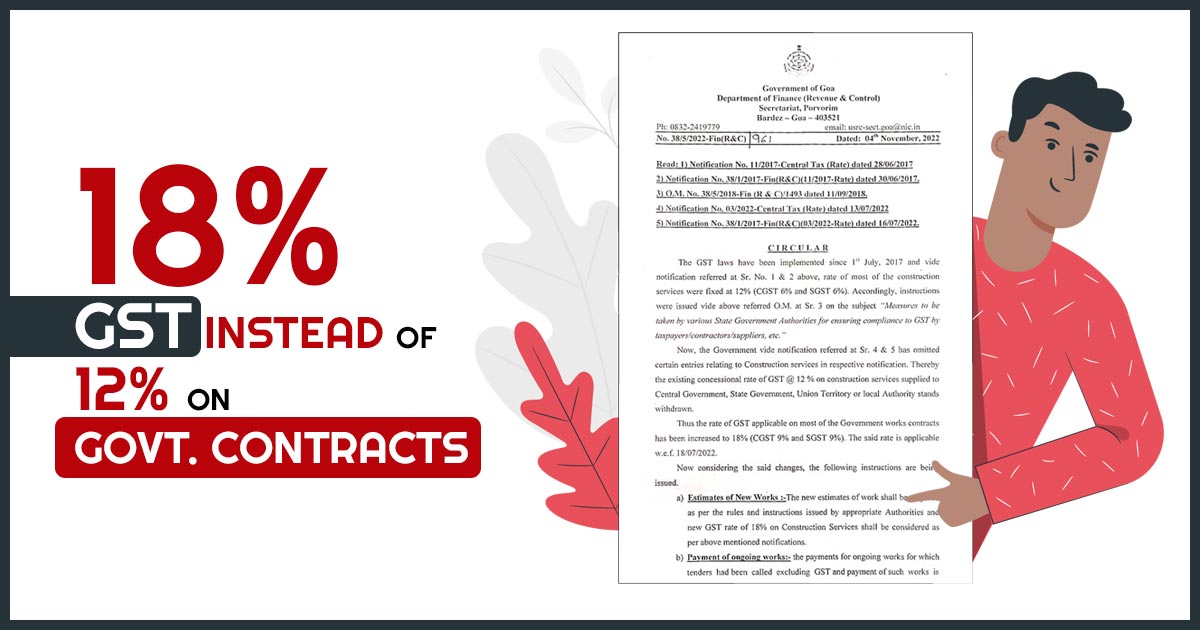 The government of Goa rendered all of its departments to rework the infrastructure project cost via computing the GST at 18% in between the withdrawal of the concessional rate of 12% for the contracts of the government.
The finance department has circulated a notice to all state departments and agencies. The same mentioned that the payments for the tendered and current preceding works must be computed again.
The states finance secretary specified in the circular-
Read Also: GST: Impact of New Taxation Structure on Works Contract
The payments for current going contracts are built via computing 12% GST.
The relevant department would amend the payment of the same contracts under the mentioned amended 18% GST.
As per that the departments would have initiated making the new approximations for the projects of construction.
A new expenditure sanction would not be needed for the rise in the cost because of the 18% GST towards the going contracts. The same condition would be applicable for another GST component of 6%.
The Central Board of Indirect Taxes and Customs (CBIC) held that in January 2022, withdrawing the 12% GST rate for government contracts. But, the Goa government surged the GST on government contracts to 18% on 18th July 2022.
It has been seen that by the GST enforcement officers, the contractors were not furnishing GST either via not furnishing the returns or wrong reporting the value of the contract. Therefore the finance department specified to all the government departments and people to confirm and verify that proper and strict GST compliance would be there for all.
Disclaimer:- "All the information given is from credible and authentic resources and has been published after moderation. Any change in detail or information other than fact must be considered a human error. The blog we write is to provide updated information. You can raise any query on matters related to blog content. Also, note that we don't provide any type of consultancy so we are sorry for being unable to reply to consultancy queries. Also, we do mention that our replies are solely on a practical basis and we advise you to cross verify with professional authorities for a fact check."